There are a lot of wireless vibration monitoring systems out there! But finding all of the options available to a vibration analyst can be time-consuming. In this post we have consolidated all the wireless vibration monitoring systems that focus on accuracy & performance over cost. In a separate post we'll do a similar comprehensive comparison of the lower-priced solutions.
To help traverse this long (almost 4,000 words!) post, we've conveniently provided a summary table that includes anchor links to the more detailed discussion on the product. Hopefully this summary table, in addition to the detailed overview on each wireless vibration sensor, helps you more quickly find the solution that best meets your needs - and then get to the fun of analyzing data recorded remotely!
Full disclosure is that I work here at enDAQ (as evidenced by the navigation!), and we have a product included in this list, but I think this gives me a unique perspective because I continually work to educate myself on the competition we face. I'm excited to share with you what I've learned to help you decide which product best meets your remote vibration monitoring needs!
---
Lord's Microstrain Wireless Nodes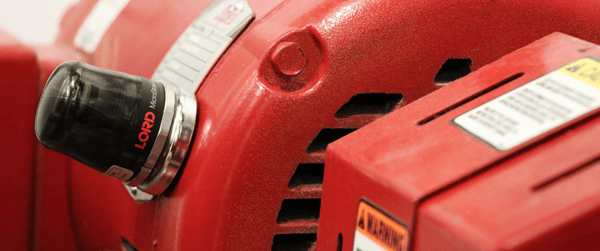 Lord Sensing's (formerly MicroStrain) have a wireless sensor nodes product line that also includes two nodes specific to vibration monitoring. The node (pictured above, G-LINK-200) with the embedded accelerometer is clearly utilizing Analog Devices ADXL355 or ADXL357 which we have as the digital accelerometer in our sensors - this is by far the best embedded digital output accelerometer we've seen on the market! And the specifications they have of the embedded are quite good accordingly. Then for higher frequency or more accurate vibration needs their IEPE-LINK-LXRS connects to more traditional piezoelectric IEPE or ICP accelerometers with a very high sample rate and resolution. They nicely list detailed specifications on their website which is a welcome surprise compared to others on this list! Although they still don't have pricing but we'd estimate there price somewhere in the $500 to $1,000 range per node.
G-LINK-200 (pictured above): Rugged Wireless Triaxial Accelerometer

Sensing

Triaxial accelerometer with sample rate up to 4 kHz (bandwidth up to 1 kHz), range of either 8 or 40g and very low noise
Includes a temperature sensor
Sampling modes of continuous, burst, or event-triggered
Directly measures accelereration and can derive tilt, velocity, gRMS or peak-to-peak acceleration, and crest factor
16 MB of onboard storage

Physical

47 mm x 43 mm x 44 mm (1.8" x 1.7" x 1.7")
Powered off two 1/2 AA batteries (Saft LS 14250, 1.1 Ah each)
Wide temperature range of -40 to 80 C
IP67 which is nice!

Wireless

Uses a license-free 2.4 GHz IEEE 802.15.4 radio frequency
Typical range indoors of 50m, outdoors of 800m

IEPE-LINK-LXRS: Wireless IEPE Accelerometer Sensor Node, 1 Channel

Connect to 1 traditional high-end piezoelectric accelerometer like these from PCB
24-bit resolution, sampling rate up to a whopping 104 kHz!
Periodic "burst" sampling only (surprising it doesn't have triggering?) of 150,000 samples
650 mAh rechargeable battery - convenient battery life calculator (example 40 days for 10 kHz sampling for 5 seconds every hour)
Because their nodes don't connect straight to the internet, you will need a gateway. They have a few different options, one the WSDA-2000 will upload the data directly to their SensorCloud discussed shortly. Then they have a USB gateway that plugs straight into a computer and two other gateways for potentially connecting the gateway into another larger DAQ system. These gateways probably range in price of between $500 to $2,000; but that's just a guess!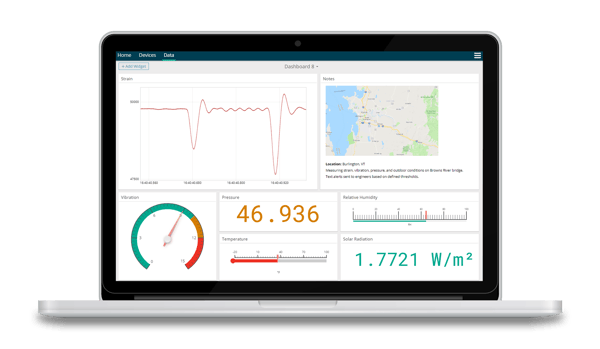 So this brings us to their SensorCloud (sweet name!) cloud-based monitoring platform. This seems very well featured with highlights below, full details on their website.
Customized dashboards by the user with a variety of pre-made "Data Widgets"
Custom alerts via email or SMS. These are based on either a user-defined vibration thresholds or if there has been no data for a period of time.
Python Jupyter notebooks (which I absolutely love this!) that let's you indirect with, visualize, and analyze your data with your own Python code right from the web-browser. This is a great feature for an extra $50/month.
They have an API to both upload or download data from the cloud.
Configure gateways and sensors remotely through the cloud which is nice!
An ITAR compatible version built on AWS GovCloud which is great for government contractors.
What's most impressive about SensorCloud compared to every other cloud platform on this list except enDAQ... the pricing is publicly listed, picture below! The pricing is based per gateway and is either free, $35 or $100 per month defined by how many "transactions" (API uploads/downloads). The Premium and Pro levels offer 1 billion of data points which would be roughly 2 GB of storage per gateway.

All in all this a great option that seems to offer a nice combination of quality. affordability, and customization! They are definitely the top choice for monitoring assets located outside with their long range radio and waterproof sensor nodes.
---
PCB's Echo Wireless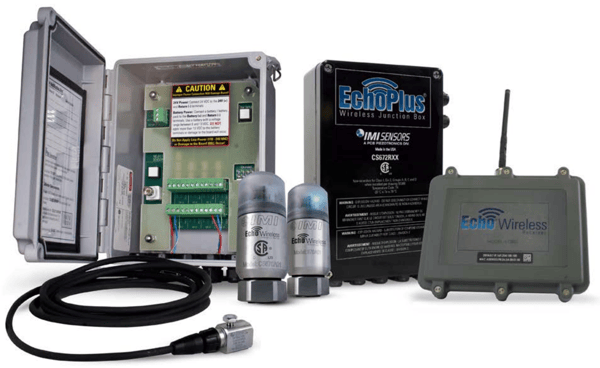 PCB Piezotronics (now owned by MTS who also owns Endevco who make accelerometers) is known for their very high quality accelerometers and other piezo-based sensors (like pressure and force sensors). They nicely list the prices on their website which are detailed below and appreciated along with pretty detailed specifications! The sensor quality you know will be good.
Prices online and available to "click & buy"
Accelerometer specifications

Size of 112 mm height with a 42 mm diameter (4.4" by 1.7")
Frequency range of 4 to 2,300 Hz
Amplitude range up to 20g
Very fine resolution of 0.007g
Mass of 454 grams (1 pound)

Wireless protocol of either 916 or 868 MHz ISM Band
Looking at the software specifications yields shows that the data is locally stored on a server or PC in a SQL database - this has some pluses in data security and minus in less access to your data remotely. The software obviously lets you see the historical data in a few different graphs/metrics and then use this to manually program warning and alarm conditions. Some other systems out there have begun using machine learning to tell you that something has changed which would be nice as opposed to the manual editing but this is clearly very feature-rich!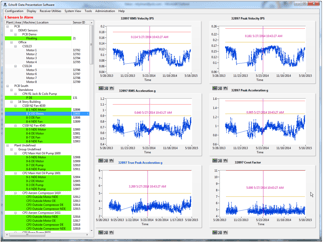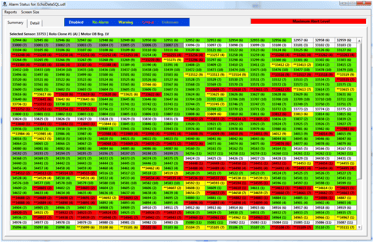 This is clearly a great option if you already trust and have an existing relationship with PCB. They also seem to be well aligned for very large systems and when you want the data saved locally.
I would be reminisce to not mention how catchy that song in their overview video is, you have to check it out; but be ready to jam out!
---
enDAQ's W-Series Sensors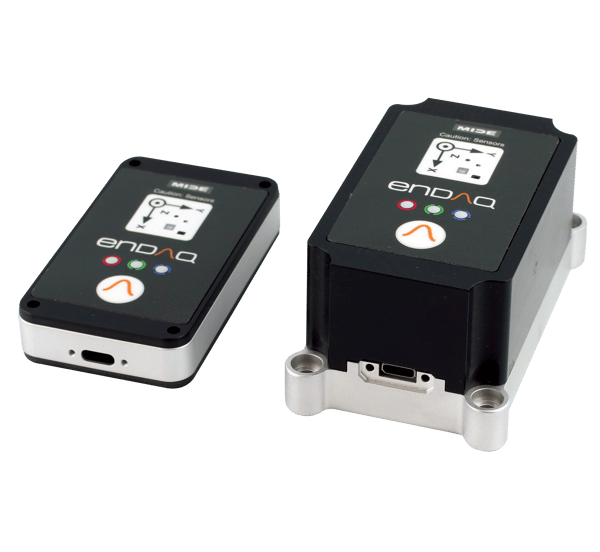 In 2020, enDAQ released the W Series wireless device and accompanying enDAQ Cloud platform, both customer-driven products that we're very proud of developing! Many of our customers needed tools for data-acquisition and analysis that would move them into the maintenance sphere and help them perform condition-based, predictive, and prescriptive maintenance. The W5, W8 and the enDAQ cloud are geared toward helping our customers acquire the data they need to start monitoring remotely.
Our products stand out for just how much data they can record and upload directly to our cloud app over WiFi. We focus on combining convenience with capability to adapt the system to meet your specific testing needs and provide data you can trust. This adaptability is highlighted in how the cloud-generated reports can be completely customized by the user.
There are two main product types, one that has a 4 Ah rechargeable battery and the other has a 1.25 Ah and is much thinner. Within each product, there is a full range of variants based on accelerometer type (MEMS, piezoelectric, or piezoresistive) and range (25g to 2,000g).
Sensing capabilities

Every unit contains at least one triaxial accelerometer (most contain two to provide both vibration and shock measurement in one system)

Digital capacitive with a 40g range and 4 kHz sampling (the same in the G-LINK-200)
Piezoelectric with 25, 100, or 2,000g ranges and 20 kHz sampling
Piezoresistive with 500 or 2,000g ranges and 20 kHz sampling

Additional sensors include gyroscope, temperature, pressure, humidity, light

GPS and microphone are included in hardware, firmware development in process

Advanced triggering options from a combination of time-based or sensor threshold based, a simple button press can also begin continuous recording
16 GB of onboard memory, enough for 8 billion data points

Physical

99.8 mm x 58.6 mm (3.9" x 2.3") length and width
17.0 mm (0.7") height with a 1.25 Ah battery
45.6 mm (1.8") height with the 4Ah rechargeable battery
-40 to 80

°C

Only IP50, a waterproof accessory is coming!

Wireless

Straight upload to the cloud (although not required) over any WiFi network
Fast upload speed of up to 8 Mbps
enDAQ has a range of free software options for analysis and configuring the unit. But now this includes the launch of the enDAQ Cloud platform that has a lot of capabilities, some highlighted below.
Data can be uploaded automatically from wireless devices or manually from non-wireless devices through the browser
Complete customizable dashboards by the user with the ability for them to use their own code to customize:

Analysis algorithms
Plot types and locations
Units in plots
Plot colors and general look/feel

Built-in analysis of raw data into summary metrics (but all data is uploaded and available):

RMS acceleration, RMS velocity, RMS displacement, RMS sound levels, RMS rotation
Peak acceleration and pseudo velocity
Average temperature & pressure
GPS speed and location

Custom alerts via email that are based on a variety of selectable vibration thresholds
Open API to access not only the summary metrics that are analyzed but also the raw data before processing

The API responses are the same inputs into custom reports making it a copy and paste from experimenting with the API to deploying a custom report

Reports have unique URLs to share with colleagues, large files can also be shared with a URL
Tags for organizing files
In true enDAQ fashion, all of our pricing is and will always be very public shown below! You can see that even our free account offers a ton of storage because our sensors stand out for just how much data they can record and upload! Our free tier also lets you generate unlimited standard reports. Customers on paying tiers have access to more data, the API, and the ability to customize reports. You can pay one month at a time if only needed for a short time, or sign on for an annual subscription to save 17%.

The enDAQ solution stands out for just how much data it provides coupled with the customization. If you want/need a lot of data, and like being able to have unlimited customization ability - this is a system to check out!
---
National Instruments' InsightCMTM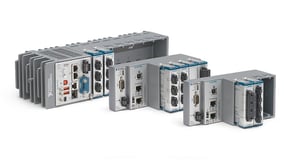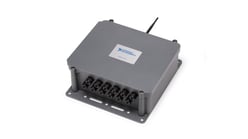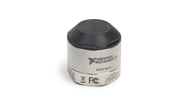 National Instruments is known for the configurability of their platform(s). Their base level solutions can offer the ability to setup one's own long-term monitoring system by utilizing some internal servers and developing custom VIs (virtual instruments). But for the purpose of this article, we'll focus on their more out-of-the-box solutions for long term monitoring. There are four systems available that they compare here:
Continuous Monitoring System - a more typical looking NI DAQ recording system that directly connects to their InSightCMTM server. Set this up with your VI to do custom analysis and recording conditions at location, and then upload to the server. These can record any sensor input with the right module and a full feature set of triggers, alarms, and burst modes. The maximum number wired accelerometers it can handle is a whopping 28 with a maximum sample rate of 40 kHz. And on top of that it can record an additional 256 low frequency sensor channels! This system needs to be hard-wired to power and will cost somewhere in the ballpark of $10K to $20K but this is difficult to know without explicit pricing provided online.

This is the preferred option if you many different and advanced sensing needs besides just vibration and a very high sample rate need of 40 kHz

Wireless Vibration Measurement Device - a 12 channel input for traditional piezoelectric accelerometers that handles the signal condition and also connects to their InSightCMTM server. This does come with a battery option and has a maximum sample rate of 10 kHz. It also has a feature to first ensure there is some vibration (asset is on/off) before then recording and uploading data. Again it is difficult to know the price because it is not listed but we'd expect it to be in the range of $5K to $10K based on other vibration-specific NI hardware.

This is the preferred option if you have multiple accelerometers per machine/asset

Wireless Vibration Sensor - This is a single device with an integrated triaxial accelerometer, wireless connectivity and a battery (no option for line power). This is their offering of the more traditional wireless sensor node, but one that still connects to their monitoring server. It obviously is the easiest to install of the three options. For specifications it has up to a 2 kHz sample rate and a temperature sensor included. It is IP 67 which is nice! Other than that they don't list very much details but we'd expect the price to be around $1K to $2K.

This is the preferred option if you are price sensitive and don't have existing sensing capabilities at your site and/or want the most convenient solution
This brings us to their InSightCMTM server and software. This is their solution for either on site server installation or hosted in the cloud. Then maintenance engineers can log in with a web browser to monitor data across all connected assets regardless on location. Again, they don't provide too much information other than this a list of 5 features for remote diagnostics:
Web client access

Waveform data analysis such as simple time series trend monitoring and spectral analysis - image below

Convert raw acceleration data to audio file to re-create experience of being in the plant

Multiple measurement technologies in addition to vibration:

Motor current and voltage draw

Thermography with the use of infrared cameras

Electromagnetic signature analysis

Virtually any other standard sensor input (temperature, proximitiy, tachometers, pressure, flow, etc.)

Intelligent alarming with two levels (moderate and high) that includes a baselining feature where the software will automatically determine levels from known "good" data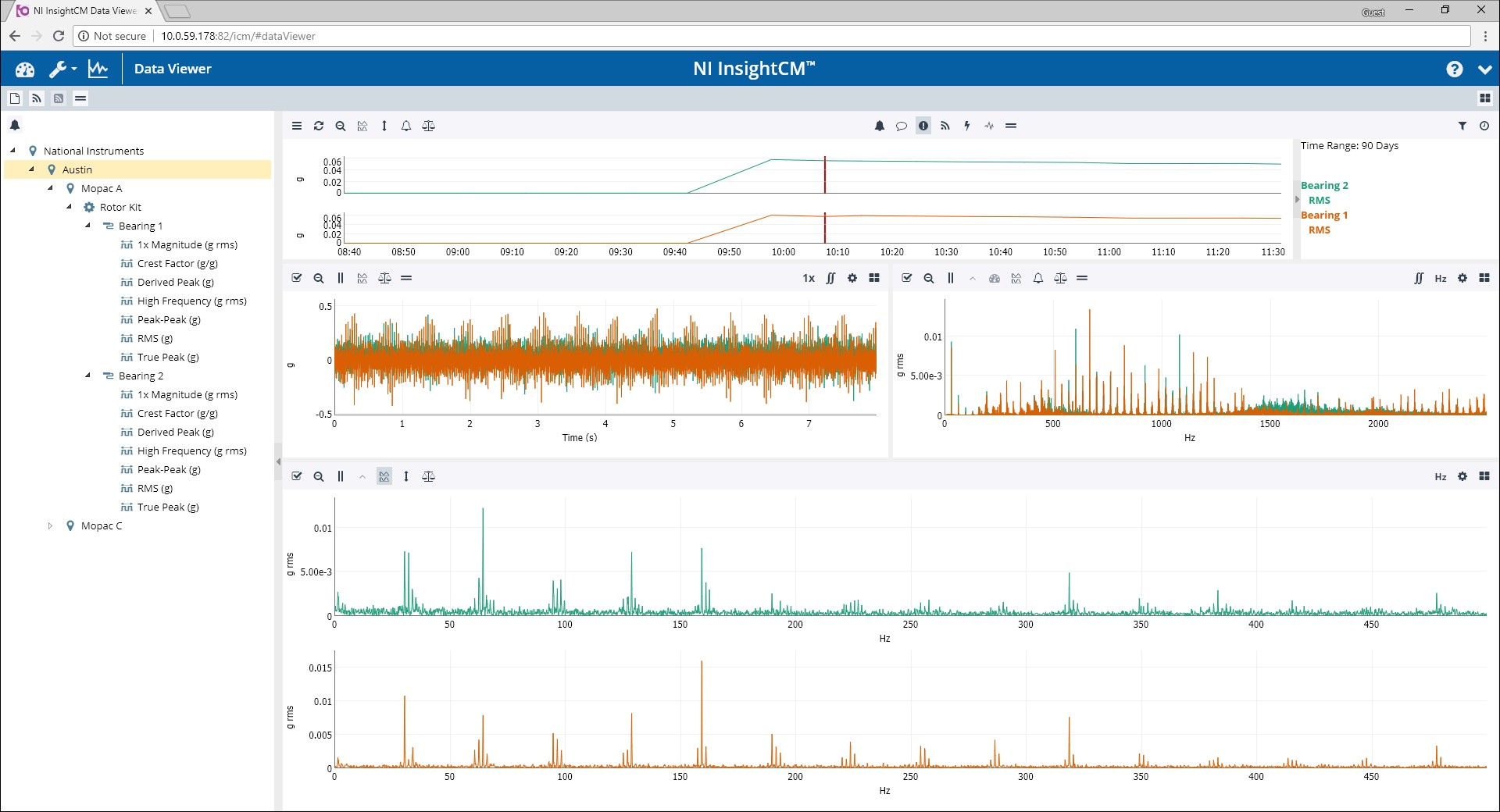 ---
Erbessd Instruments
Erbessd reliability instruments with the slogan "masters of machines health" offer a range of wireless sensors and an even wider range of analysis software tools. For the purposes of this article that focuses on accuracy over cost, I'll highlight the following two options. But they do also have a range of lower cost monitoring sensors (~$400 each) as well. The company seems like a small, but capable operation with a lot going on! And they are very much focused on machine health with software aimed at understanding and diagnosing specific failures from either bearings, pulleys, miss balancing, belts etc.
WiSER 3x: Triaxial Wireless Accelerometer

Price of $1,995 (found from online US distributor, Instrumart)
Sensor

20g range, 100 mV/g sensitivity, 24-bit resolution
Max sample rate of 48 kHz
Includes a 5-pin connector for another sensor input
It seems to record continuously or from a button press, it doesn't seem to have triggering our periodic measurement which is odd?

Physical

92.4 mm x 48.9 mm (3.6" x 1.9")
300 grams
IP 67 which is nice!
Includes a magnetic base, also nice!
Battery life of 8 hours continuous measurement

Wireless

Straight to the cloud via WiFi which is convenient

GP8: Universal ICP Accelerometer Wireless Adapter

Can't find pricing information
Sensing capabilities

Connects to traditional ICP piezoelectric accelerometers
8 channels which can give some nice synchronization options
Sample rate up to 44.1 kHz
Includes internal temperature
Measures velocity RMS every 5 minutes

Physical

100 mm x 120 mm x 50 mm (3.9" x 4.7" x 2.0")
100 grams
IP 67
Battery life of 2 to 3 years

Wireless
Erbessd has a LOT of different analysis solutions! Their Digivibe software if the wireless vibration analyzer and data collector that pairs to the wireless accelerometer. This software with a laptop, tablet or smart phone will provide near real time frequency analysis when connected to the wireless accelerometer. Their analysis capabilities are definitely wide and powerful!
They have some other relevant software solutions like their EI Analytics software is their cloud solution. This seems to offer machine learning which is powerful to learn what are appropriate alarm conditions. And then an unrelated but cool software is their "Dragon Vision" which can determine vibration information from video, pretty neat!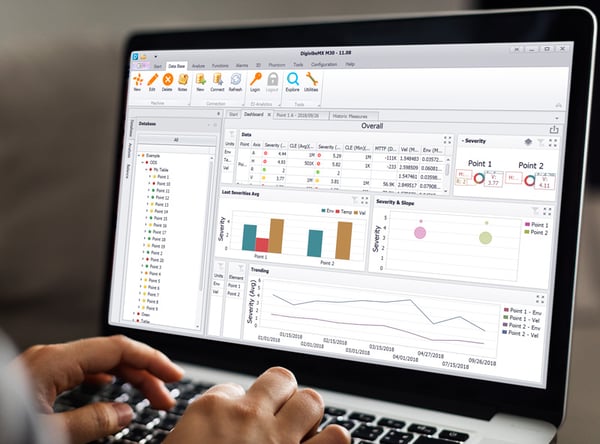 Overall Erbessd is definitely a solution worth checking out! For better or for worse, their wireless accelerometer seems better aimed at in situ testing where you are physically going around from machine to machine and don't want to deal with wires. If you are looking for more longer term monitoring, the Phantom system would be better. Again they have a lot going on!
---
Dynapar OnSiteTM Monitoring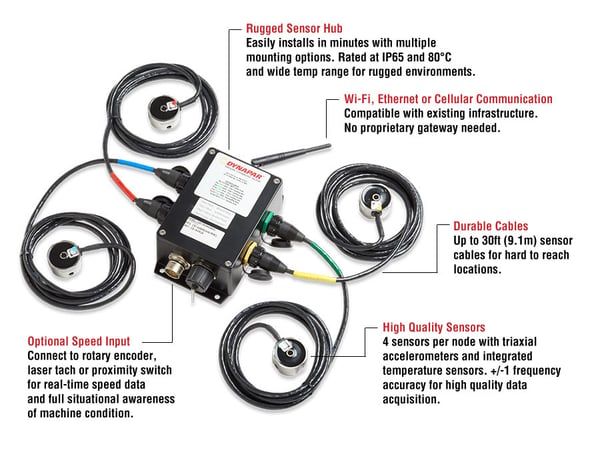 Dynapar's OnSiteTM remote vibration monitoring system offers a 4-in-1 sensing system that conveniently incorporates the wireless connectivity directly to the cloud in the main DAQ sensor "hub." At each wired sensor location (the wires offer some strengths in arguably better data quality but with the complexity wires bring) triaxial acceleration along with temperature is recorded. They seem to have a range of software tools including a cloud portal to access and analyze the data with some impressive custom alarm conditions that the user can program. Again they don't provide a ton of detail online but here are some specifications I could find:
Triaxial accelerometers that include a temperature sensor
Frequency bandwidth from 0 to 2,000 Hz
Upload data wirelessly via Wi-Fi or cellular or, where available, use an Ethernet cable
The most impressive part of Dynapar's solution is the frequency analysis it provides that can determine the root cause such as mass imbalance, shaft misalignment or bearing wear. They seem to really focus on the frequency analysis element in general as opposed to simple vibration "levels."
---
Bently Nevada Ranger Pro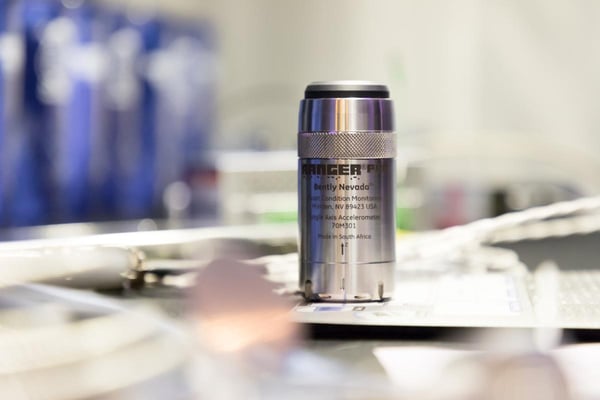 The Bently Nevada Ranger Pro by Baker Hughes (now owned by GE) is a piezoelectric accelerometer based system that uses the ISA100 Wireless Network Protocol for predictive maintenance programs. The product is specifically targeted to the oil & gas, power generation and industrial markets. It integrates with their System 1† condition monitoring system which seems to be a very powerful large scale system aimed at "complex manufacturing businesses." They don't provide much detail of the specifications (or the cost) of their system online but here are a few specs I could glean.
5 year battery life (replaceable battery)

Measurement interval ranging from every 6 hours to 28 days

20g accelerometer with a maximum 10,000 Hz sample rate
88 mm x 44 mm (3.5" x 1.7") size
Available in single axis or triaxial and available temperature sensor
Wireless protocol of ISA 100.11a which requires either a Yokogawa or Honeywell gateway
Being part of Baker Hughes / GE along with the limited online details suggests their system should only be considered by the "big boys" with large scale operations. I will say that I am very enamored with their product's name... it's sweet!
---
Emerson's AMS 9420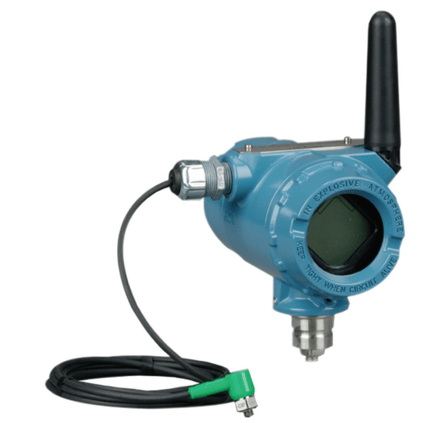 Emerson is a big company that definitely knows a thing or two about production! They have a few conditioning monitoring products including their AMS 9420 wireless vibration transmitter. It took me a few minutes to understand what is going on with that picture. The green part at the end of the wire is connected to a traditional piezoelectric accelerometer there. That is then wired to the recording system with the wireless antenna. So now that we got that out of the way, here are the specs!
Sensing capabilities

Piezoelectric single-axis accelerometer with an 80g range (but the user may be able to select a different accelerometer)
Maximum sample rate of 51 kHz
Measures velocity or Emerson's "PeakVue" score
They can also report the vibration levels in certain frequency bins which is a good idea

Rotor vibration (2 to 65 Hz)
Rotor harmonics (65 to 300 Hz)
High Frequency (300 to 1,000)

Option of reporting full wave form, a FFT or even an FFT thumbnail for further data compression
Seems to offer an integrated LCD screen display as an option

Physical

316 mm x 171 mm x 107 mm (12.4" x 6.7" x 4.2")
2.1 kg weight (4.7 pounds)
Battery powered or connected to line power

Wireless

Utilizes the IEC 62591 (WirelessHART) network
Emerson has a monitoring software called Plantweb Insight for monitoring assets across a plant, not just vibration. There is a lot going on with very nice dashboards that let you dive deeper into particular assets and why they may be failing to diagnose problems remotely.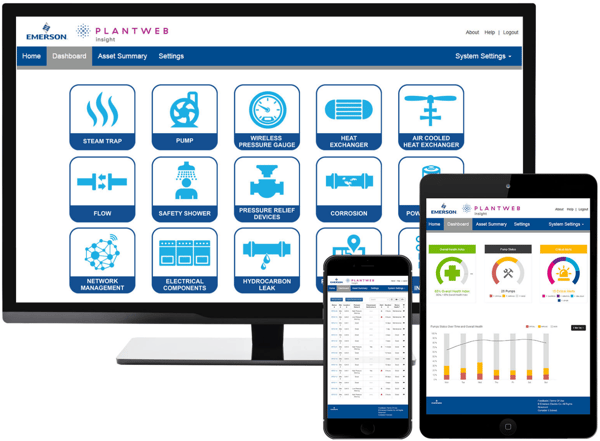 Emerson's solution is best for big time manufacturing facilities with a lot of monitoring needs. If you have a large operation, you need to definitely consider Emerson's suite of wireless products!
---
SpotSee's OpsWatch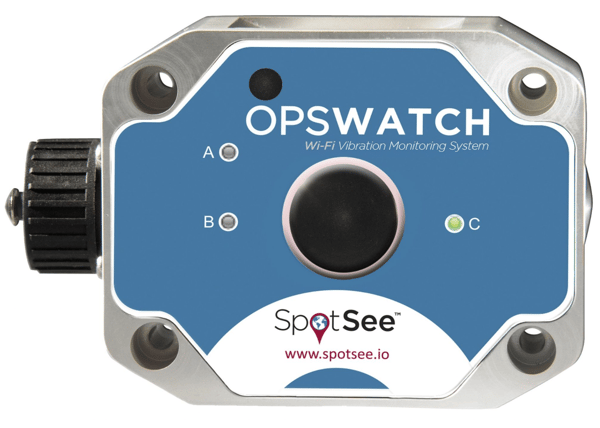 SpotSee (formerly known as ShockWatch) makes a wide range of transportation monitoring products such as simple go/no-go shock sensors that turn red when certain levels have been exceeded. They began offering digital sensors with their ShockLog impact recorder that is a direct competitor with enDAQ's S-Series sensors and aimed at transportation monitoring like their legacy systems. Their OpsWatch is specifically aimed at "stationary" applications to monitor vibration and communicate that to their cloud portal. Here are the specs:
Sensing capabilities

Triaxial accelerometer with a 200g range (that doesn't speak well for it's sensitivity and noise)
Records peak or RMS with a maximum sample rate of 5 kHz
User defined alarms

Physical

External power, no battery
100 mm x 110 mm x 40 mm (4.3" x 3.9" x 1.6")
Mass of 1180 grams - it's big!

Wireless

IEEE 802.11 WiFi straight to the cloud at 1.25 Mbps

Price of $2,400 (from distributor)
SpotSee offers a cloud solution for real time reporting called OpsWatch Cloud which seems different than their regular SpotSee cloud that is aimed at tracking things in transport. This will provide status indicators of each asset and then clicking on an asset will bring up the time history of the peak acceleration and RMS vibration level.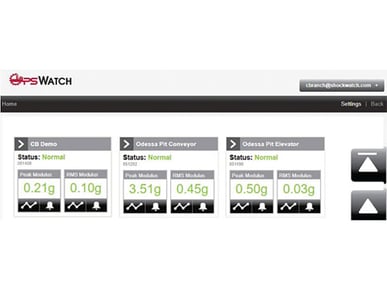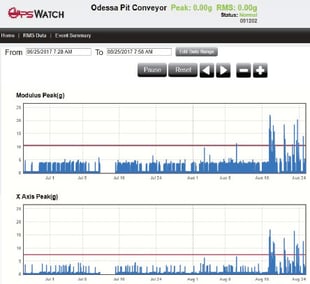 These products admittedly may not belong in a list of accurate vibration monitoring systems because accuracy doesn't seem quite the focus. But they are definitely convenient with a simple interface and a straight to cloud architecture over WiFi. If you have a smaller operation and want a simple means of monitoring your heavy machines, this is worth checking out!
---
Conclusion
If you've made it this far hopefully you've found the above overviews helpful! Here is that summary table again with anchor links to give you a second read on some of your favorites!
Lastly, if you're looking for wireless vibration monitoring - you probably are doing some vibration analysis! To help, we have a handbook, An Introduction to Shock and Vibration Response Spectra, that will help you bridge the gap between shock and vibration analysis as it's taught in universities and as it's practiced in industry. You'll find formulas, advice and lots of examples to help you more quickly make sense of your data and verify your tests and designs.


Related Posts:
For more on this topic, visit our dedicated Wireless Vibration Monitoring Systems resource page. There you'll find more blog posts, case studies, webinars, software, and products focused on your condition monitoring and maintenance needs.