Gathering vibration data can be a complicated and laborious task, analyzing that data shouldn't also always have to be so complicated!
In my last post I covered 6 programming options for vibration analysis. These offer the greatest analysis flexibility; but sometimes they require an advanced knowledge of the computing language and analysis fundamentals which not everyone has. Standalone graphical user interfaces (GUIs) are nice for providing that initial overview of your data and performing some analysis.
But wading through the sea of software options out there can be daunting. In this post I'll provide some software packages which I've heard good things about or used myself. Hopefully with the links provided here you can find an option that you're comfortable with and one that can get you back to vibration analysis!
---
Free Standalone Software Options
There are a wide range of standalone software packages available for purchase; but let's first identify a couple free ones.
1) VibrationData Toolbox
Tom Irvine offers both a MATLAB and Python version of his signal analysis and structural dynamics software GUI. These offer great versatility because it has a nice GUI which is easy to work with; but all the source code is available if you need to take the next step and perform your own custom analysis. In nearly all of his webinars he will go through an example that uses these software packages so you can quickly see the power and ease of use of these analysis options.
enDAQ also partnered with him to compile this toolbox so that folks can use it even without having a MATLAB license. This can be downloaded for free on our website along with some more information on all this free tool has to offer.
2) enDAQ Lab
The enDAQ Lab is available for free along with some example recording files. This software currently only works with enDAQ sensors (formerly Slam Stick) recording files; but we have plans to open this up to other import files in the future. The software only has basic analysis capabilities but it covers the major ones typically needed: FFT, PSD, spectrogram, unit conversion, and general plotting. Data can also be exported to MATLAB or CSV (readable by Excel, Python, and other software) for follow-on analysis.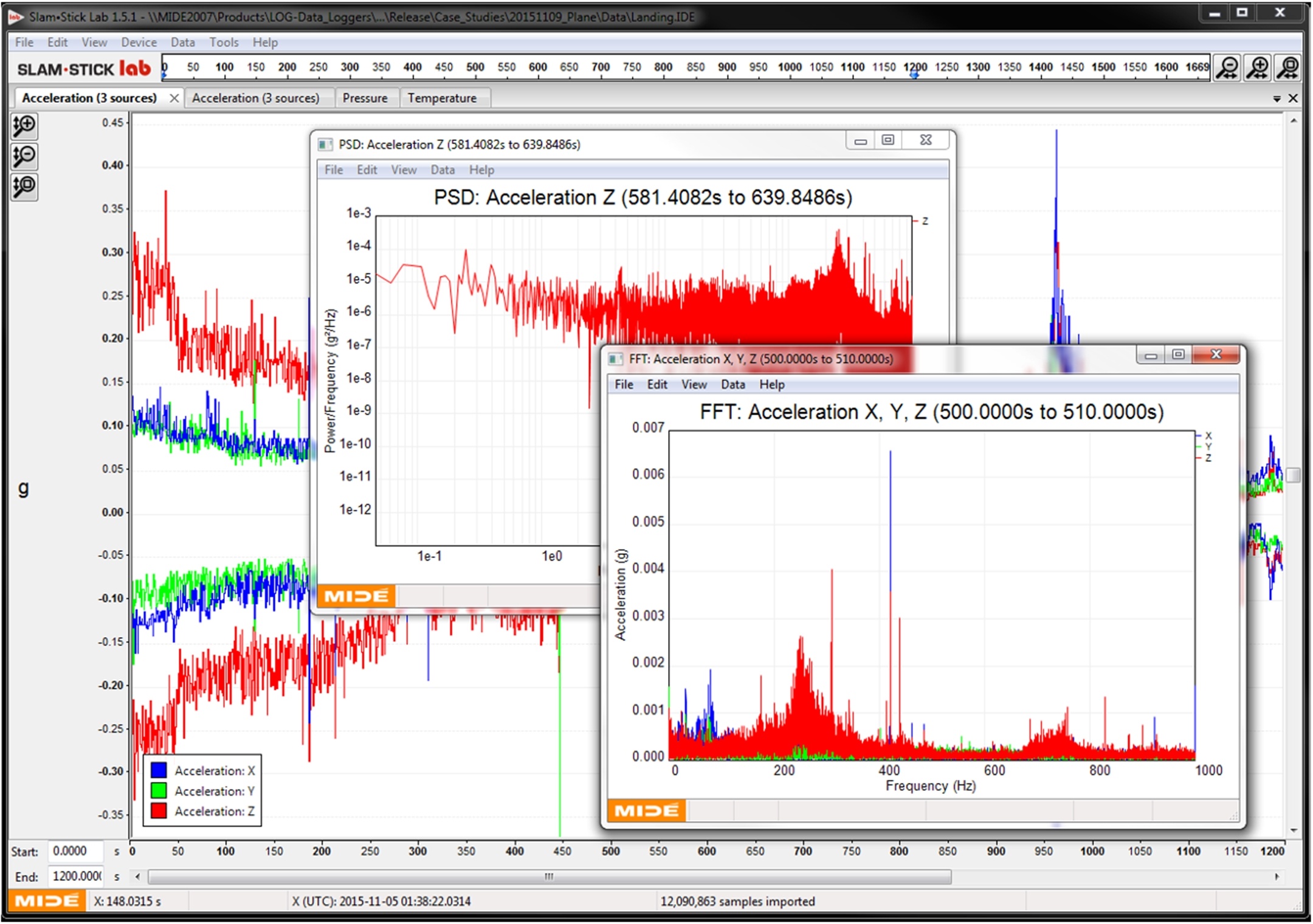 ---
Analysis Software Products (they cost money)
The following represent a select few of many different standalone GUIs available on the market for vibration analysis. These will typically cost around $5K or more but offer some unique benefits over writing your own code, namely a time savings advantage.
3) DADiSP

DADiSP is an alternative and hybrid between the ease of use of Excel spreadsheets with the flexibility and computational power you get with MATLAB or similar programming languages. It has over a thousand different functions for analyzing and visualizing your data and we recommend it for engineers who like having a software package that they can visually interact with without needing to write too much (or any at all) code.
4) DPlot
DPlot is the cheapest option on the list (besides the free ones above) and only costs $195 per license. I've had several enDAQ (formerly Slam Stick) customers recommend this software package for analyzing and plotting vibration data; and so in turn, I've recommended it to a lot of folks that are cost conscious.
5) m+p International
This company specializes in vibration testing, specifically modal. They have a variety of hardware products for data acquisition but also some software packages for post processing and analyzing data in real-time. Their m+p analyzer can interface with their hardware for real time analysis but is also useful in handling large datasets and post processing vibration data.
5) VibrationVIEW
Vibration Research's VibrationVIEW software is another alternative to post processing and analyzing vibration data in real time. This company makes a lot of hardware for vibration testing (DAQ systems, shakers, accelerometer calibration equipment etc.), so the software works well with those too.
6) Brüel and Kjaer
Bruel and Kjaer, a major accelerometer and shaker company, have a couple different software packages that are very impressive; again for both post processing and analyzing vibration in real time.
7) ProAnalyst
Xcitex's ProAnalyst software is unique in that it uses video for determining vibration levels and analyzing them. Seems like a very powerful tool that can simplify the hardware setup! The costs don't seem too ludicrous either, only $1,795 for their introductory edition. It quickly starts climbing towards $10K and beyond though for the professional edition and different toolkits. I do like how they come right out and list the pricing instead of requiring you to fill out a form!
8) FEMtools
For modal analysis and validating CAD models with experimental data, FEMtools is a very powerful tool. It can also be used for general post processing of time history vibration data.
---
More Resources
If you'd like to learn a little more about various aspects in shock and vibration testing and analysis, download our free Shock & Vibration Testing Overview eBook. In there are some examples, background, and a ton of links to where you can learn more. And as always, don't hesitate to reach out to us if you have any questions!