When it comes to data acquisition and analysis, I like to believe that I know a thing or two. But I don't consider myself an expert. That's why I'm very excited to introduce a true expert on this topic, Strether Smith.

Strether recen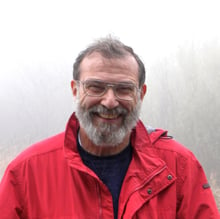 tly offered to contribute some guest blogs to share his vast knowledge and 30+ years' experience in data acquisition with all of you.
Before he starts blogging away, we want to be sure that all understand that he has no official connection to enDAQ, a division of Mide, and that he does not endorse enDAQ, Mide's, or any other vendor's, product unless it expressly discussed in his blog posts.
With that out of the way, I had the chance to sit down and learn more about his plans for the blog and his experience in the data acquisition and analysis world.
---
1. Why are you interested in being a guest blogger?
I'm looking for new ways to create some dialog on modern/advanced methods for data acquisition and structural-dynamic system analysis. I have a lot of experience (good and bad) to share and think the Mide blog [now enDAQ blog] is a perfect venue to help reach and educate engineers interested in these areas.
2. What got you into data acquisition?
A looooong time ago, I could not buy the data acquisitions systems that I needed to perform the experiments that I wanted to do. Over the years, this morphed into the business of building large-scale (100's of channels), audio-frequency (bandwidth up to 100KHz) data acquisition and analysis systems for structural-dynamic testing applications.
3. What is your experience?
I started my career in the 1960's at Stanford University where I was doing thin-shell (cylinder (Beer-can?)) buckling research. It turned out to be a waste of time - we were barking up the wrong tree.

In the late 60's I started working at the Lockheed Palo Alto Research Lab where I worked until the late 70's. I was doing material-characterization studies and slowly gravitating toward structural dynamics. For reasons I have never understood, I was drafted to direct the modal test of a large spacecraft. Shortcomings in the available strategies in that test lead me to the development of a sine-sweep testing/analysis technique that was first used in the proof-of-concept testing of the Hubble Space Telescope… This 128-channel system demonstrated that pointing/stability requirements could be met.

In the late 70's I co-founded Synergistic Technologies Incorporated (STI) where we developed custom data acquisition systems and marketed the first MDOF structural-dynamic-test shaker-control systems.

In the mid 80's I went back to back to Lockheed where I founded the Computer Aided Testing Systems (CATS) group. We developed the ARDVARC family of multi-million-sample-per-second (aggregate) data acquisition/analysis systems. These, and ensuing systems, were the first, multi-mega-sample/second systems that stored all time history data. In the 1990's the PIRANHA family was developed whose first member acquired and stored 324 channels at 100K Samples/Channel/Second.

In the early 2000s I moved to DSPCon to further develop and market the PIRANHA systems family. The largest acquired and stored 400 channels at 256,000 samples per second while displaying time histories and spectra for up to 120 channels!

By 2008 I had enough of the real-world grind and retired. Now I spend my time consulting, schmoozing, hiking, biking, and hanging with family and friends!
4. So, what do you expect?
My objective is to get a dialog going between interested parties. This should include both those of you who have a lot of experience and those who don't. I know that this blog has over 1000 subscribers and so I think that it is reasonable to expect a lot of interaction. I hope that we will all learn a lot and that the interactions will help all get better and more consistent data.

As you will see, my first blog post will tell you that your snazzy new data acquisition system is lying to you. The extent of the lie depends on how good (and how well matched to your application) the system is.

I look forward to your responses.
---
Thanks Strether, I look forward to reading of your experiences and learning from you!
If you have any questions for Strether, he can be reached via LinkedIn or by simple posting questions on his blogs. We here at enDAQ may be able to help answer questions and direct you to the appropriate resource/person; so don't hesitate to reach out to us and ask!